"Help a Friend" Referral Generating System
Attract Interested Prospects for Less Than $8 Each
Giving an educational and motivational book to prospects and referrals is a low-cost marketing approach that results in immediate payback and ongoing benefits. The "Help a Friend" campaign is a sincere, philanthropic request that valuable financial information be shared with everyone. Encouraging your contacts to give "Help a Friend" Gift Certificates to any "friend" interested in finances is a simple, cost-effective system to attract and pre-educate new clients.
Payback #1: Extra Revenue
Based on a new client being worth $500, giving an $8 book to all interested prospects is instantly profitable if your closing ratio on prospects is over 1.4%! Offering books to stimulate additional referrals, where your closing ratio is much higher, is even more profitable. Example: Giving out 100 books would cost $700 ($7.00 each or less), resulting in a break-even point of a little more than one new client.
Payback #2: Time Savings
Financial Freedom Without Sacrifice educates and motivates people to take advantage of financial advisors, mutual funds, and RRSPs, saving valuable one-on-one time. Saving a half hour is worth $10 for someone earning $50,000 a year.

I have run several book giveaway campaigns over the last eighteen months. I have given away over 160 copies of Financial Freedom Without Sacrifice and find it a useful, efficient way to qualify people who are interested in financial planning. I believe from personal experience that giving Talbot's book away is an effective prospecting tool.
Allan Morse, Merrill Lynch
Ongoing Benefits
With the right book, the "Help a Friend" campaign is a cost-effective referral generating system that perpetuates itself. Once everyone knows that you freely give books to interested friends, friends automatically refer friends, who refer their friends, etc. Using an entertaining storyline approach, Financial Freedom Without Sacrifice focuses on simple, specific ways to benefit immediately, and gets people excited about financial planning.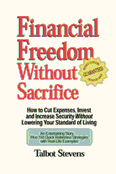 Step-by-Step Instructions
Order books or booklets here.
Send a Gift Certificate and book with a cover letter introducing the "Help a Friend" campaign to all clients, prospects, and 15-25 centres of influence (human resource directors, presidents, etc.).
Follow up in two weeks. By the time they finish the book, you have contacted them 3 to 5 times. You have built a relationship before you ask them if you can help them implement some of the ideas to achieve their specific goals.
Re-introduce them to the "Help a Friend" campaign, and ask what friends would also like a free copy of Financial Freedom Without Sacrifice.