Leverage Professional Software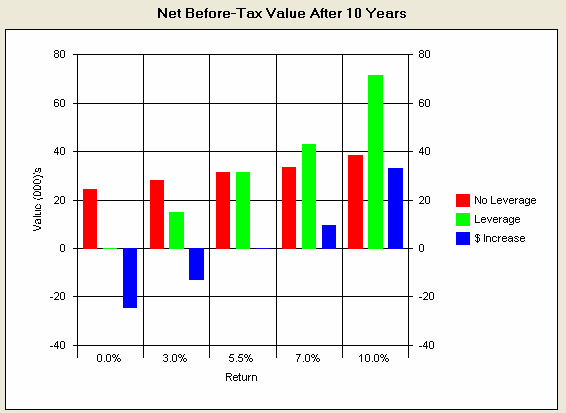 Until recently, there have been very few educational and analysis tools to help advisors understand the mechanics and risks of leveraging, so they can implement the strategy where appropriate in a professional manner to reduce the risks to their clients and themselves.
The most valuable tool that advisors can provide to their clients to reduce their business risk associated with leveraging is a personalized projection of leveraging for the client's unique situation. The printout option for client signatures provides proof of complete disclosure.
Talbot's Leverage Professional is a simple bilingual software program for analyzing the net benefits of borrowing to invest. It evaluates leveraging using interest-only loans, term loans that are paid off over time, and RRSP catch-up loans.
The software helps professional advisors better understand how and when conservative leverage makes sense, how it can increase business when used responsibly (including RRSP catch-up loans), and how to reduce the business risks of leveraging. It will:
Automatically calculate the minimum "better than" return for leveraging to benefit the investor
Quantify how RRSP Catch-Up loans can benefit investors when returns are half of the cost of borrowing
Show how conservative leverage can increase baby boomers' retirement funds when equity returns are less than two-thirds of the interest expense
Contrast the increased magnification of interest-only loans vs. term loans
Minimize business risk by ensuring clients receive full disclosure for a range of projected returns.
Increase Business Responsibly
The software allows advisors to increase their business by adding tangible value to their clients through the professional and responsible implementation of conservative leverage.
In addition to the benefits to investors outlined above, Talbot's Leverage Professional allows advisors to produce personalized projections of the potential benefit (or loss) for a range of returns. This helps dispel the myth that returns must exceed the cost of borrowing for leveraging to make sense. A personalized projection for an investor's unique situation is much more valuable than a theoretical illustration that doesn't apply to them.
Reduce Business Risk
Providing leveraged clients with a personalized projection of the projected benefit (or loss) over a range of returns ensures that clients understand that the strategy can help or hurt them. The disclaimer on the printouts clarifies that the numbers are projections only, and that actual results will vary, perhaps significantly.
To professionally educate clients and prove full disclosure, several financial planning firms have made it a policy that every leveraged client receives a a personalized projection from Talbot's Leverage Professional, and a copy of Talbot's Summary of Dispelling the Myths of Borrowing to Invest.
Sample Printouts